Who is GRUNTWORKS ENTERTAINMENT?

GruntWorks Entertainment is a talented team of artists specializing in the creation of masterful motion pictures. From the seed of a story idea through final post-production, GruntWorks oversees all filmmaking aspects – yielding motion pictures that captivate audiences with potent elements of suspense, intrigue and terror. Since its inception in July of 2007, GruntWorks Entertainment has completed the following 5 feature motion pictures:

SEBASTIAN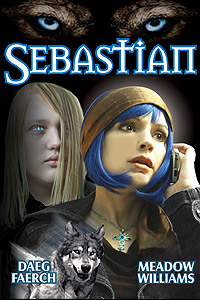 A woman dying of cancer is miraculously cured by a handsome young stranger who claims to be the soul of her aborted child. Little does she know that her clean bill of health will cost her the lives of the people she loves most.

SEBASTIAN features an all-star cast consisting of Daeg Faerch (HALLOWEEN / HANCOCK) and a captivating and heartfelt performance by Meadow Williams, who brings the complex character of Miranda Barnes to life. SEBASTIAN also stars Betsy Rue (MY BLOODY VALENTINE / HALLOWEEN II), Greg Vaughan (GENERAL HOSPITAL),and Dee Wallace (CUJO and THE HOWLING). View Trailer. | Visit official website | IMDB




RAVEN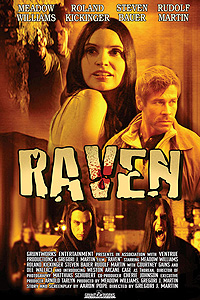 An amazing new twist on the classic vampire tale, RAVEN chronicles the re-awakening of a seductive vampiress and the struggle of a lone vampire hunter who must overcome his desire for her in order to destroy her. Ravenous with insatiable bloodlust, Raven launches an all-out assault on a small Arizona town, wreaking bloody destruction that attracts an ancient vampire prince and creates a powerful undead brood. Meanwhile, the vampire hunter hurtles towards a fateful showdown with the undead Raven that could bring all of humanity salvation or a future of eternal evil.

RAVEN features a powerhouse performance by Roland Kickinger (TERMINATOR SALVATION) and a captivating and sensual performance by Meadow Williams, who brings the complex character of Raven to life in all her dangerous, sexy, bloodthirsty glory. RAVEN also stars Rudolf Martin (SWORDFISH / BEDAZZLED) and legendary film actors Steven Bauer (SCARFACE / PRIMAL FEAR), Courtney Gains (CHILDREN OF THE CORN), and Dee Wallace (CUJO and THE HOWLING). The exciting new talent Weston Arcane Cage also delivers an awe-inspiring breakout performance as the warrior vampire Thorean. Written by screenwriter Aaron Pope (DARK REEL), RAVEN mingles elements of INTERVIEW WITH A VAMPIRE and THE LOST BOYS to take the red-hot vampire genre in a bold, fresh new direction. View Trailer. | IMDB




THE INTRUDERS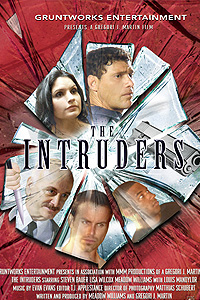 After the death of his eccentric mother, Michael Foster is set adrift in a sea of madness. Desperate to reclaim his identity, Michael invites strange characters from his past into his home. But the plan backfires as the crowded, emotionally-charged quarters only exacerbate Michael's anguish. As Michael careens towards a breakdown and tensions rise among the houseguests, his family is ripped apart and his home life is pushed to the brink of destruction. What will it take to get these "intruders" out of their lives for good?

In THE INTRUDERS, co-writers Gregori J. Martin and Meadow Williams weave a complex, well-crafted plotline puzzle that keeps audiences guessing until the ultimate, mind-bending payoff is finally revealed. Featuring a gut-wrenching, career-defining leading performance by the iconic film star, Steven Bauer (SCARFACE / PRIMAL FEAR) a passionate performance by Meadow Williams (LIGHT YEARS AWAY / APOLLO 13) as Michael's caring but conflicted ex-wife, and a devastatingly villainous turn by Brody Hutzler (RAVEN / DAYS OF OUR LIVES), the cast also includes Lisa Wilcox (A NIGHTMARE ON ELM STREET series), Ruben Rabasa (THE LOST CITY) and Louis Mandylor (MY BIG FAT GREEK WEDDING). View Trailer. | IMDB




JACK RIO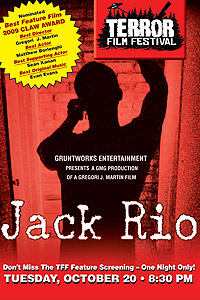 Shortly after the famous actor Tommy Jamison announces he is quitting his leading role on the mega-hit TV show Jack Rio, a crazed murderer goes on a gruesome killing spree. A wave of horror follows in Hollywood, as one by one the killer's victims are found with their faces hacked off. Journalist Andrea Shane (Meadow Williams), who is doing an investigative report on Jack Rio, quickly discovers a link between the murders and the show's coming demise. As the crisis pushes Tommy to the edge of insanity and investigators inch closer to solving the grisly murders, the audience can only hang on as JACK RIO's dizzying thrill ride builds to a shocking, must-see climax.

An edgy thriller that keeps audiences in spine-tingling suspense, JACK RIO features an ensemble cast of familiar faces: Nadia Bjorlin (REDLINE, NBC's DAYS), Meadow Williams (APOLLO 13, LIGHT YEARS AWAY), Brian Krause (WB's CHARMED / Stephen King's SLEEPWALKERS), Sean Kanan (HACK!), Adrianne Curry (LIGHT YEARS AWAY, and the hit reality show MY FAIR BRADY) and Matthew Borlenghi (NBC's DAYS OF OUR LIVES ). View Trailer. | IMDB




SKELETONS IN THE DESERT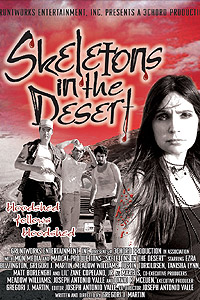 During a high-profile investigations, six friends go on a road-trip to Vegas and are forced to face their worst nightmares.

A gritty, terror-filled tale of a thrill-kill cult's bloodthirsty and merciless torture of innocent travelers, SKELETONS IN THE DESERT features breathtaking lead performances by Gregori J. Martin (JACK RIO / THE INTRUDERS / RAVEN), Ezra Buzzington (THE HILLS HAVE EYES / MIRRORS) and Meadow Williams (JACK RIO / THE INTRUDERS). SKELETONS IN THE DESERT recently celebrated its World Premiere at UNIVERSAL STUDIOS in HOLLYWOOD and is available for worldwide distribution.View Trailer | Visit official website | IMDB




GruntWorks Entertainment is currently reviewing several scripts for consideration and is looking forward to shooting its next feature film this coming summer. Thank you for your continued support and see you at the movies!
- THE GRUNTWORKS ENTERTAINMENT TEAM
Directed by Gregori J. Martin and supported by the talented and tireless GruntWorks Team of cinematic artists.
GruntWorks Entertainment, Inc.
Business: (631) 293-0030 ext. 459
E-mail:
gruntworksentertainmentinc@gmail.com